The Friends
Witherle Memorial Library enjoys the broad support of the Friends of Witherle Memorial Library, affectionately known as "the Friends."  The Friends share their time and talent in a myriad of ways to enrich the library.
In particular, library programming benefits from the patronage of the Friends, who offer funds, ideas, and leadership.  Along with library trustees, the Friends are the library's greatest ambassadors and advocates in the greater Castine community.
Thank you Friends!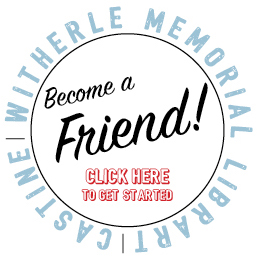 Friends website Coming Spring 2020

Book Sales
The Friends run regularly scheduled book sales.  By "run", we mean they sort, evaluate, price, shelve, store, and sell the many, many books donated to benefit the library.
The books are clean and fairly priced. Looking for a particular book?  Leave a message for volunteer bookseller Keith Hagel at the library or at Friends@witherle.lib.me.us.
Book sales raise a significant amount of money for the Friends. The Friends use these proceeds to benefit library programming and special needs.
Donating Books
Cleaning out your closet or bookshelf? We accept materials that are gently used and in good condition. All donated materials will be evaluated and either added to our library's collection or included in the book sale.
Helpful Tips
Book donations are accepted during regular library hours. Please follow these guidelines.
To donate a large number of books please call the library to schedule a time to bring them.
Do not use the book drop to make book donations.
We do not accept moldy, torn, or broken books.
No magazines, encyclopedia sets, or National Geographic collections.
Fine Print:  How We Share Information
WML and The Friends of Witherle Memorial Library are two separate organizations. The Library is a department of the Town of Castine, while the Friends is a Maine-registered 501-c-3 organization.
Unless otherwise instructed, the two organizations share the following information as needed: changes in patron household, changes to patron name, and changes in address/additional address.
Friends membership includes a subscription to their newsletter. Subscription to WML's regular eNews and updates to patron account information are made by request to the Library.