Museum Collection
Witherle Memorial Library displays its collection of paintings, maps and artifacts to view during regular business hours. Several pieces of artistic and historical importance represent significant acquisitions. Some of the building's brass fixtures and fittings date back to 1912 when it was constructed.
Collection highlights include–
Grandfather Clock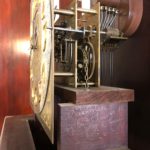 The clock, made by Tiffany and Co. of New York circa 1890, has a mahogany case with engraved, silvered brass dial with floral designs and painted top moon phase dial. It stands 94" high and 20.5" wide at hood. The clock has been cataloged by Maine Chapter 89 of the National Association of Watch and Clock Collectors (NAWCC). It stands in the library's Rotunda and keeps very good time.
Portrait of Noah Brooks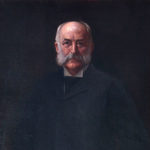 Brooks, who was born in Castine in 1830, was a journalist and editor. He was a close personal friend of Abraham Lincoln and wrote the lauded biography Washington in Lincoln's Time. Brooks donated his book collection to the library, which was sold 100 years later, as we were unable to provide the proper conditions to preserve the valuable editions.
The portrait is signed in the lower right corner by artist Walter Gilman Page, 1904. Page lived from 1862-1934 and was a resident of Nantucket, Massachusetts.
Painting of the William Witherle
The large gilt-framed oil-on-canvas painting depicts the three-masted ship William Witherle broadside at sea, as well as a rear view in the right middle ground.
The painting is unsigned, but likely the work of a Liverpool School artist, circa 1880.
Artwork of Fitz Henry Lane
A gilt-framed lithograph, Castine from Hosiptal Island, was created by the artist Fitz Henry Lane, a resident of Gloucester, Massachusetts, who lived from 1804-1865. He painted extensively in the Castine area.
Also, the library owned two-important paintings by Lane, Castine from Fort George and Castine Harbor and Town, which were sold in the 1960's as the Library did not have the means to properly protect them. The revenue was used to create the basis of the library's endowment.
Portrait of Baron de Castin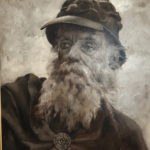 The gilt-framed oil depicts the Baron as a Roman warrior in full beard, cap, shield, and Medusa clip.
In 1674 Baron Jean Vincent d'Abbie de St. Castin came to recover Penobscot River lands from the Dutch. After the Dutch were expelled, he set up a trading post in Majabigwaduce, and married into the Tarratine Indian tribe. Over the next 25 years, St. Castin played an active role in Maine during the North American Colonial Wars, earning a poetic tribute from Henry Wadsworth Longfellow as "The Bar-on of St. Castin." He eventually returned to France, where he died in 1707. 
The painting is signed in the top left corner by artist William Hicock Low, N.A., 1881. Low lived from 1853-1932 and was a resident of Bronxville, NY.