Witherle Memorial Library and the Adams School Present: The Second Annual Great Pumpkin Book Character Contest!!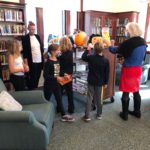 It is back for a second year, Halloween Pumpkin Book Character Contest!
The goal is for families to use their creativity and love of reading to turn a pumpkin into a book character. Put on your thinking cap on as you have until Wednesday, October 26th to bring the book and the decorated pumpkin to the Library  between 7:00-9AM. The pumpkins will be on display in the library's reading room. Community members and students will be able cast their vote for the pumpkin that they believe best represents a book character. This year, the winner will receive a gift certificate, generously donated by the Out on A Whimsey Toy Store in Blue Hill. Click this link to learn more.
See all events