The Art and Science of Tide Pools with Landere Naisbitt and Kristy Cunnane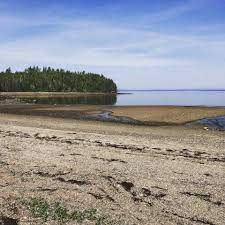 NEW LOCATION!
Join Blue Hill Heritage Trust, Compass Rose Books, Witherle Library, and local artist, Kristy Cunnane, for a fun tide pooling event for kids! We will explore the tidepools at the Back Shore Beach in Castine and learn about barnacles, crabs, periwinkles and various other tide pool creatures. We will also do an art activity and each child will make their own accordion book with drawings of the creatures we find in the tide pools.
Ages 8 to 12
 Carter Nature Preserve  At the tide pool  at 99 Cross Rd. in  Surry.
Please wear sturdy closed-toed shoes that you don't mind getting wet, and bring sunscreen and a water bottle.
Co-sponsored by Compass Rose Books, Castine's independent bookstore.
About Landere Naisbitt
Having spent most of her childhood outdoors, Landere grew to love the plants, animals, and landscape of the coast and is excited to have the opportunity to share with the community her passion for this special place. After renting in many of the area towns including South Blue Hill, East Blue Hill, Brooklin, Sedgwick, Deer Isle, Penobscot, and Surry, she became familiar with the micro-landscapes of each unique place and looks forward to knowing them better through the lens of conservation and education.
Landere is the Outreach Coordinator at Blue Hill Heritage Trust.
About Kristy Cunnane
Kristy Cunnane has been a fulltime teacher and professional artist for many years. She works in a variety of media and enjoys sharing art experiences with children and adults alike. For many years she has been part of a collective of artists who create artist books. She runs a monthly art subscription, sending affordable art- prints, small books and zines through the mail. She lives in Orland in the beautiful woods of Happytown Road.
See all events