Adventure Engineering: Life and Work at the Home of the World's Worst Weather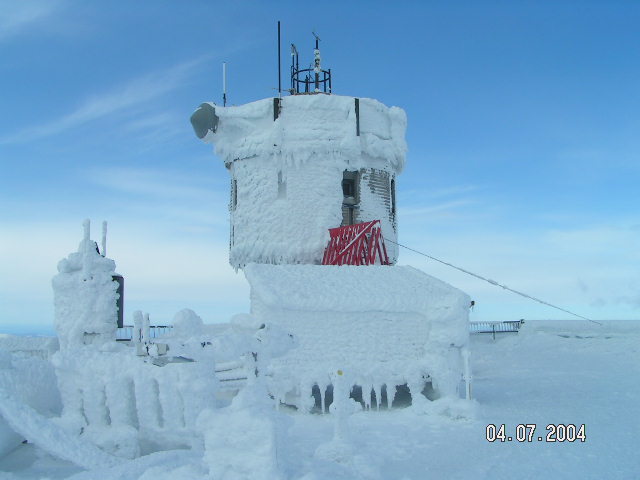 A Lecture by Jill Schoof
Adventure Engineering will give an idea of the great beauty and variety of weather at the Summit of New England's highest mountain, and of the great challenge and adventure of life and research work at the world-famous mountaintop observatory.  Professor Schoof is a founding member of the Center for Wind, Ice, and Fog Research at the Mount Washington Observatory.  She will describe some of the very robust wind measurement instruments she designed and built with her students for use under what are generally considered some of the most extreme weather conditions found anywhere.
Preregistration is required and a ZOOM link will be sent to participants.
Photo wikicommons Photo taken by Michael Davidson on April 7, 2004.
***
The summit of Mount Washington is unique as well as beautiful, as it is subject to extremes of meteorological, climatic, biological, and ecological conditions not found elsewhere outside the polar and arctic regions.  Summit weather is severe.  Over the 43-year interval from 1935-1978, for example, mean annual precipitation at the Observatory was 83.55 inches and mean annual snowfall was 248 inches.  A snowfall of 566.4 inches during the 1968-69 season broke a national snowfall record.  Icing is extreme (and beautiful), and five feet of rime ice can grow on surfaces overnight.
For some part of the day, the summit is in cloud or fog at least 300 days of the year.   The temperature measured at the summit never rises over 72 degrees F; the lowest recorded was -47 degrees Fand the average is 27 degrees F.  The mean hourly wind speed is 35.1 mph.  "Century days" (when wind gusts exceed 100 mph) are frequent in winter and early spring.  Wind chill factors are off the charts and can often be lethal.  The highest wind velocity recorded was 231 mph, a world record, measured at the Observatory on April 12, 1934.
See all events