Kedron Barrett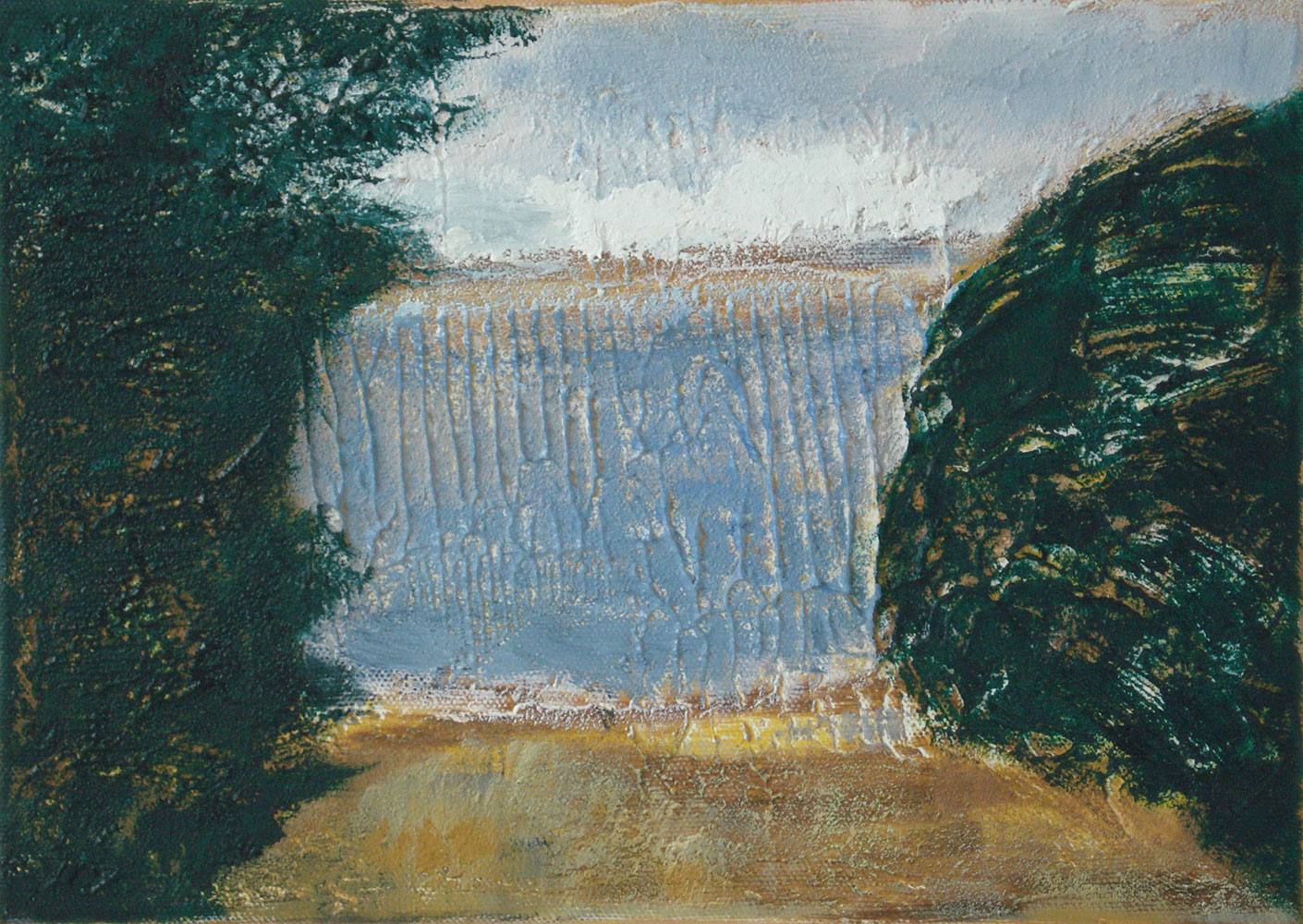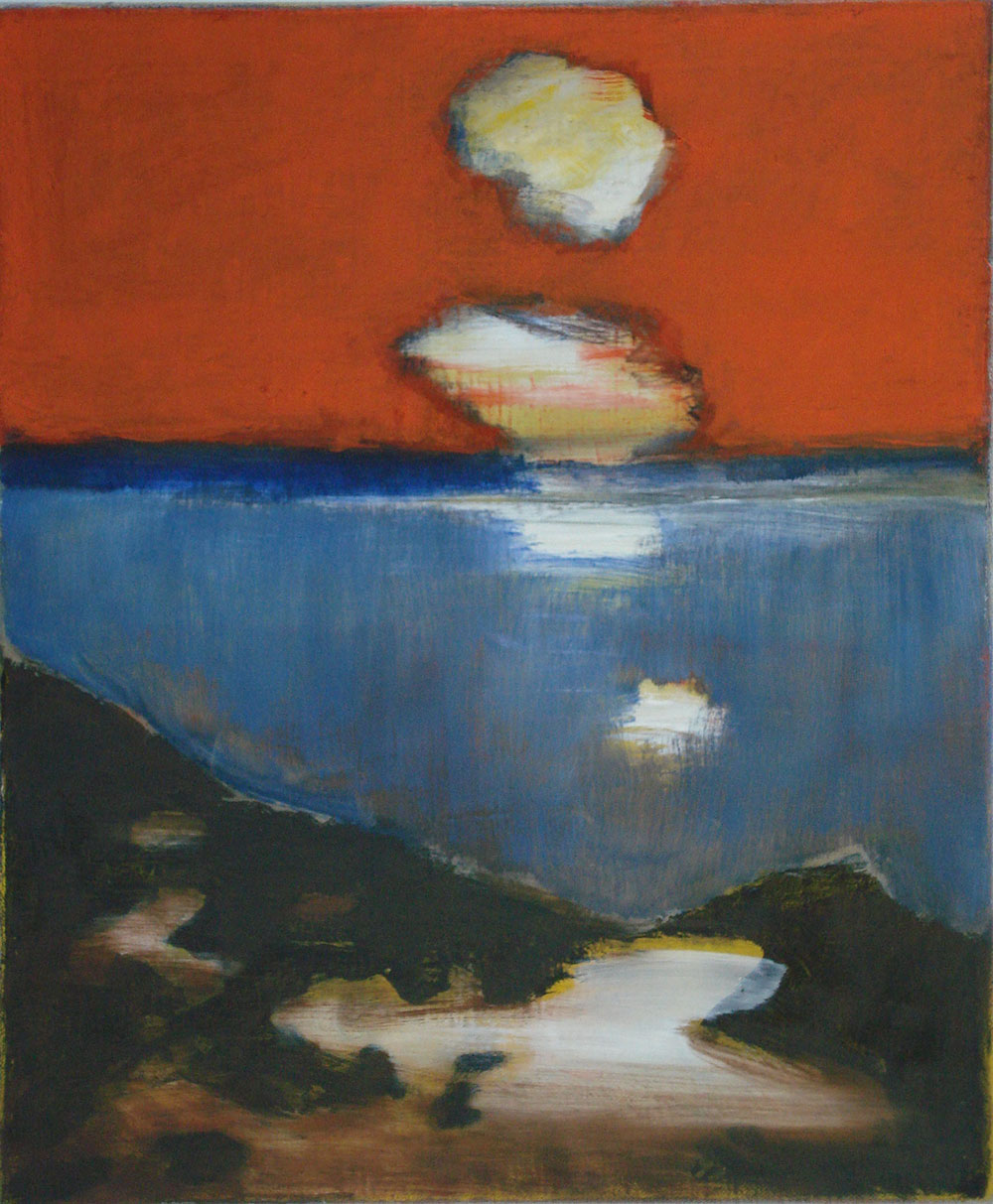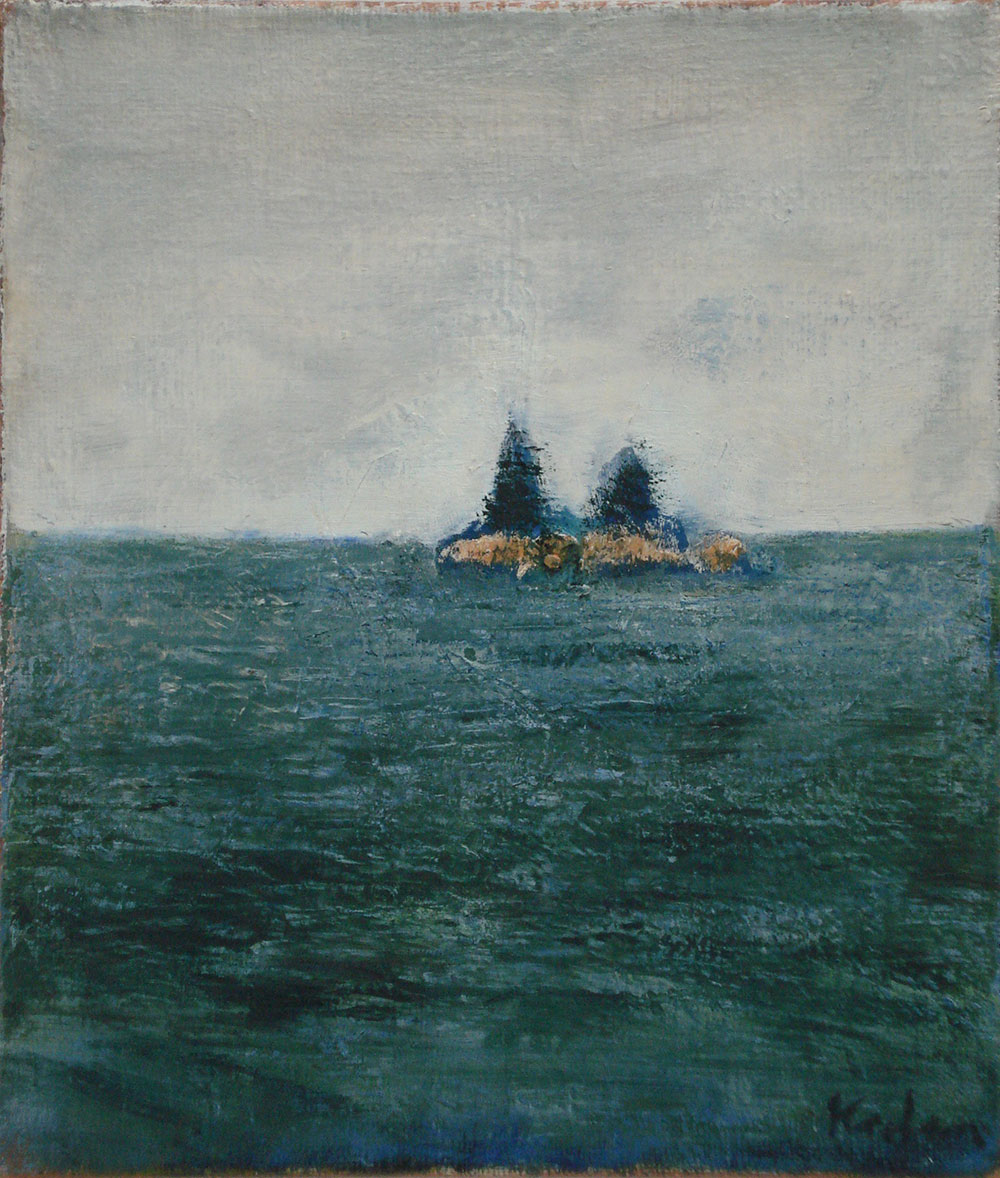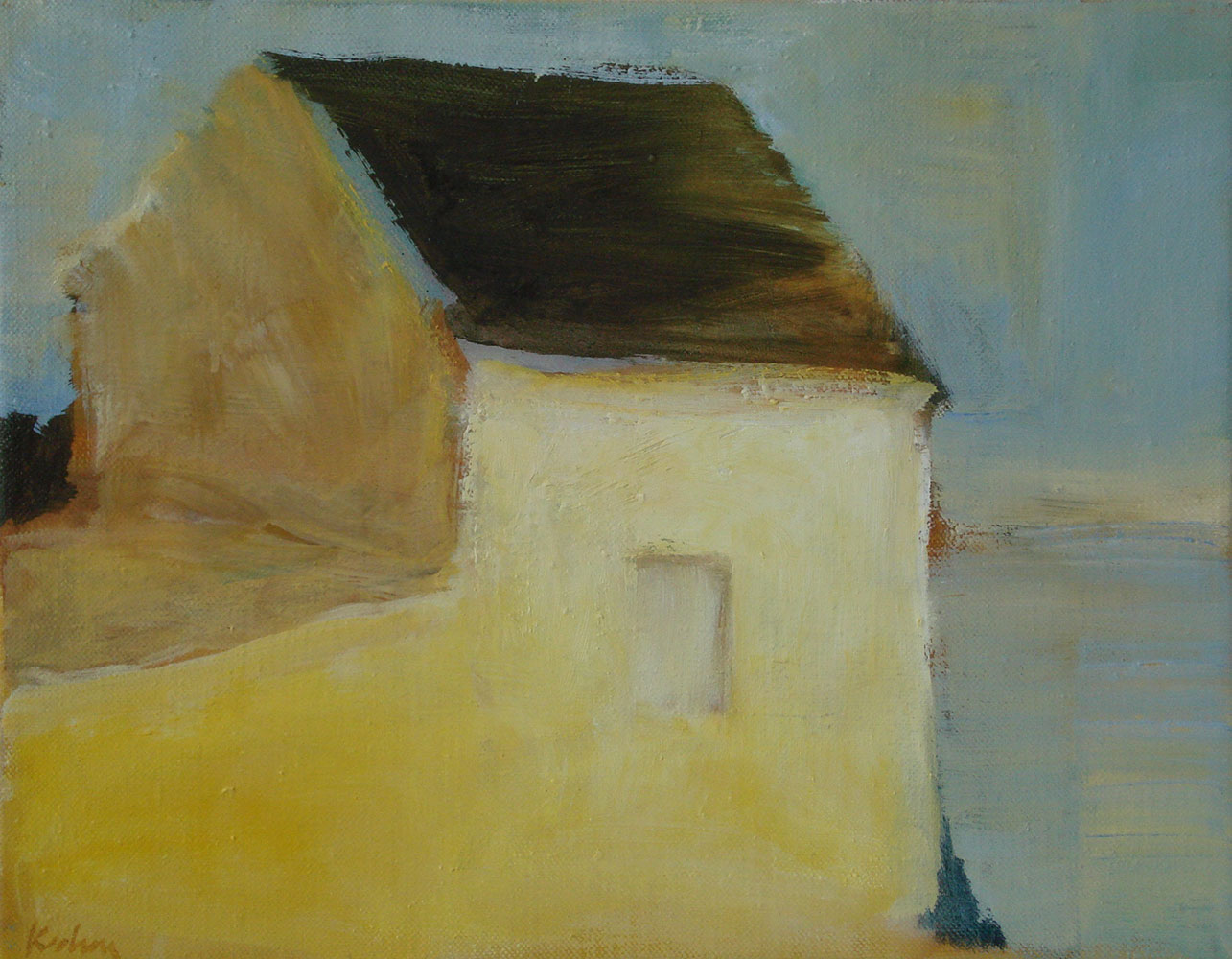 Kedron Barrett Home
The Artwork of Kedron Barrett

Produced by Witherle Memorial Library with support from Castine Arts Association and Maine Community Foundation.
Artwork is the property of the artist unless otherwise specified. Images may not be used without permission. All rights reserved.
Project developed by Rich Hewitt with help from Kathryn Dillon and Alicia Anstead. Signatures website designed by Michelle Keyo. © Witherle Memorial Library.
Artist's Statement
Kedron Barrett: Artist's Statement
Room to Paint­: Thoughts on Objectivity
As early as I can remember, pictures were everywhere. In our house they were not only on the walls but on the floor as well, usually propped up against furniture. I sustained one of my first injuries just after I started walking in an attempt to go into a picture. If that experience made one thing clear, it was that pictorial space had a different set of rules than the space I inhabited. What goes to follow is that before it is anything else, a painting is a surface.
A viewer's perception of a painted surface as metaphor implies his having some notion of virtual space. In virtual space, there are no things; rather, there are shapes and the relationships between them. There, color makes light, whereas in the actual world, light determines color. How to find one's bearings in such a space?
When I carne to Berlin I began making pictures of the Wall. This was the reverse of wanting to walk into a painting: I was making paintings of an actual world I could not enter! It gradually dawned on me that locality is merely a starting point, a means of entry into a world of reflection. It would perhaps be more accurate to speak of "reflection upon perception." That is what my work has been about ever since, be the subject landscape, the human figure, or various substitutes for it: houses, boxes, tin cans. Common to them all is my everyday experience of light and texture. The type of light most particular to my work is reflected light. What most appeals to me about reflected light-be it blazing sunlight on a wet street, the mysteriousness of lamplight on a nocturnal facade, or the moon itself-is the directness of its indirectness.
The indirect approach is integral to my work. Each painting, while relating to the larger body of work, is a unique venture, a product of its own evolution which is often circuitous and not conceptually predetermined. What determines development is my subject which, although it might seem otherwise, is never an object. There is really only one object, and that is the painting itself.
On Monotypes
The monotype–the unique print that isn't a print in the traditional sense but a transfer of ink or paint from one surface to another–is central to my work. For me, it is a bridge between drawing and painting, a means of "thinking through" paintings from a reverse point of view. The immediacy of a monotype is felt from the moment the paper is pulled back from the painted plate. Only residue remains on the painted surface of the plate–the ghost of the image. The rest of the pigment has melded with the pores of the paper, assuming a quality quite distinct from that of directly applied paint. Here again the inherent indirectness of the method contributes to the directness of the image.
Excerpts from Kedron Barrett, with contributions by Jutta Lindenthal/Ulrike Laudan, Jovis, 2012
Exhibitions
EXHIBITIONS: KEDRON RYON BARRETT
Born                  1961 in Concord, New Hampshire, USA
1979-83          Yale University, New Haven, CT (B.A. 1983)
1980-81          Independent study in Paris, France (Ateliers Jean Bertholle, Port Royal)
Since 1983     Lives and works in Berlin and Hinrichshagen (Mecklenburg), Germany and Castine, Maine
Solo exhibitions (since 2000)
2020    Kunsthaus Koldenhof, Mecklenburg, Germany
2019    Galerie Ei, Berlin
2017    Galerie Nils Graf, Fürstenwerder, Germany
2015    Galerie Form, Berlin, Germany (with Hans Scheib)
2015    Galerie der Moderne, Berlin
2013    Galerie Ei, Berlin (with Rolf Biebl)
2011    Galerie Jürgensen, Hamburg/Oetjendorf, Germany
2010    Galerie Gruban, Berlin
2009    Städtisches Museum Eisenhüttenstadt, Germany (with Ehrhard Thoms)
2007    Galerie Jürgensen, Hamburg/Oetjendorf (with Lutz Hellmuth)
2006    Galerie am Neuen Palais, Potsdam, Germany
2004    Brecht Haus, Berlin
2002    Galerie Herschel, Berlin
2001    Arnold Klein Gallery, Detroit, MI, USA
                Galerie am Neuen Palais, Potsdam
2000    Galerie Mitte, Berlin
Exhibitions new 2
EXHIBITIONS: KEDRON RYON BARRETT
Group exhibitions (selection)
2021    KunstOffen, Mecklenburg, Germany
2019    Galerie Jürgensen, Hamburg
2018    Crumpacker Gallery, St. Paul's School, Concord, NH, USA
                Gallery B, Castine, ME, USA
2016    Kunsthalle Wittenhagen, Feldberg, Germany
2015    Galerie Ei, Berlin
2014    "Das Selbstporträt", Ostsächsiche Kunsthalle, Dresden, Germany
2013    Galerie Schmalfuß, Marburg
2012    Galerie der Moderne, Berlin
2011    "Kleist: eine Ansichtssache", Kleist Museum, Frankfurt/Oder, Germany
2009    "Mein Bier", Galerie Raab, Berlin
2008    "Pirosmani's Table", National Museum Karvasla, Tbilissi, Georgia;
                 National Gallery, Yerevan, Armenia
2007    "Bilder für Tyros", Pergamon Museum, Berlin
2004    "Wirklich Schön", Galerie Schwartzche Villa, Berlin
                 Galerie Brigitte Utz, Dresden, Germany
2003    "The Barretts", Galerie am Neuen Palais, Potsdam
                Galerie Wolfram Cornelissen, Wiesbaden, Germany
2002    Origin Gallery, Dublin, Ireland
Exhibitions 3
EXHIBITIONS: KEDRON RYON BARRETT
Works in public collections (selection)
Detroit Institute of Arts, Detroit, MI, USA
Städtisches Museum, Eisenhüttenstadt, Germany
Chamber of Commerce, Berlin, Germany
Vattenfall Europe, Berlin
Bayer-Schering, Berlin
Daimler Foundation, Stuttgart
Investitionsbank, Berlin
Grants & Residencies
Scholar of the House, Yale (one year's study at the Yale School of Art, 1982-83)
Marshall-Allison Fellowship, Murray Travel Grant (Yale University 1983)
Senate Airlift Grant (Luftbrückendank), Berlin (1985, 1986)
Foundation Kulturfonds (studio grant for Ahrenshoop, Germany, 1996)
City of Wernigerode, Germany (Artist-in-Residence, 2000)
Cill Rialaig, Ballinskelligs, Ireland (Artist-in-Residence, 2002)
Heinrich Böll Cottage, Achill, Ireland (Residencies 2010 & 2015)
Symposia
"Grenzenlos", Hitzacker, Germany (1989)
"East meets West", Odessa, Ukraine (1999)
"Internacional", Barcelona, Spain (2001)
Pleinair, Trebnitz, Germany and Poznan, Poland (2001)
"Culture and Conflict" (Speaker), Belfast, Northern Ireland (2006)
"Reflections on German Unity" (Speaker), University of Cincinnati, USA (2015)
Exhibitions 4
EXHIBITIONS: KEDRON RYON BARRETT
Guest Lectureships
1992             University of Applied Sciences, Potsdam, Germany
2000-05     European Academy for Urban Environment, Berlin
2003-10     BildWerk Frauenau, Bavaria (printmaking workshops)
2003-20     European Youth Exchange Center, Weimar
Publications
Kedron Barrett paintings/works on paper 1983-2011 with contributions by Jutta Lindenthal, Ulrike Laudan; 112 pages, 108 color plates; Jovis Verlag, Germany 2012
Media
Mein erster Amerikaner: Der Maler Kedron Barrett (The Painter Kedron Barrett), 45-min. film for German public television (Helmut Biewent, concept & text: Katja Lange-Müller, ZDF, 2002)
About
I grew up in New Hampshire and Maine, although I always felt closer to Maine. When I was 19, I went off to Paris for the good part of a year where I developed the feeling that my future as an artist lay in Europe. So, after finishing college at 21, I was off to Europe again, this time to Berlin, and that's pretty much where I have been based for the past four decades.
Castine has nevertheless been a focal point in this transatlantic adventure. After my parents, both artists, settled full-time in Castine in 1989, I was there nearly every year. Adams School was my son's school away from school. After my father's death in 2009 I was in Castine at least three times a year, and probably spent a total of about three of the next ten years there. And that is why Castine and the surroundings of east Penobscot Bay played a significant role in the development of my work during the past decade.
Thanks to the pandemic, the past fifteen months have been my longest absence from Castine in over thirty years. It also precipitated a move away from the urban environment that has been my central place of work for most of my adult life: I relocated my studio from Berlin to Mecklenburg, about 100 miles north of the city, one of the ruralest (is there such a word?) of rural regions in Germany. I enjoy being back in the country, but I miss the sea. Although the Baltic is not far away, and it is indisputably a sea, there are no tides, and therefore hardly a substitute for Maine.
Marsden Hartley, an artist I much admire, was not only the quintessential Maine artist but probably one of the most itinerant artists ever. (The apartment and studio he occupied in Berlin from 1913-15 is just around the block from my own.) But no matter how far afield he went or which tangents the development of his painting followed, both he and the focus of his work always returned to Maine. Perhaps it is somewhat that way with myself as well.