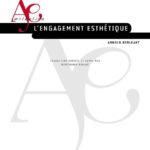 Curated by Robin Mass.
The books, published over the past five decades, document Dr. Arnold Berleant's work in philosophy, particularly in aesthetics, environmental aesthetics and ethics. Dr. Berleant has been published internationally. His eight books will be part of the exhibit along with a selection of translations of those works into Chinese, Polish, and other languages. He has completed work on a ninth book which is in press and scheduled for release in September.
In late May, Dr. Berleant will be featured on the library's website as this season's Signatures artist. Signatures provides an in-depth look into the creative work of a person living in the Castine area.  This online exhibit will then become a part of the library's digital local history archive. Find out more about Signatures.